The conservation of this Chapel is supported by a greatly appreciated donation from
The Kent Archaeological Society




Rev Terence Edmund Tanner


Father Terence Edmund Tanner arrived in Dover on 9th November 1958 as the new Parish Priest of St Paul's RC church.
| | |
| --- | --- |
| | Rev Terence Tanner - 1968. |
Terence Tanner was born in 1916. As a young man he contracted double pneumonia and suffered tuberculosis in both lungs, one of which was removed. It was only with a special dispensation from Archbishop Amigo that he was able to study for the Priesthood and was subsequently ordained. He was parish priest at Hindhead from 1954—58.

He was something of a specialist in church design and decoration, undertaking the completion of the church at Hindhead. His interest in the arts was exemplified by his beautiful handwriting and he was deeply versed in Jungien psychology. He had a great love for Our Lady.

Immediately upon his arrival in Dover, Father Tanner found the fabric of the local Catholic church of St Paul's was in a very poor state of repair. Work on the restoration of the church started on June 1st 1959, the ninety second anniversary of the commencement of its building.

Not only did he undertake this considerable project, but he was significantly responsible for the building of Buckland church Our Lady of Dover, St Martin's RC church at Aycliffe, St Richards Primary School, St Edmunds Secondary School, and Riverside Centre for aged people in Dover.

Following the restoration work of St Edmund's Chapel he continued his priestly duties until he was 'moved on' under the Bishop of Southwark's instructions and left Dover in 1972. He died in Leominster in 1982. RIP.

back to top of page >>





Emedded in the South wall is a dedication to Rev T Tanner.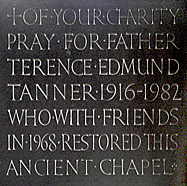 The words on the plaque dedicated to to Rev T Tanner.