The conservation of this Chapel is supported by a greatly appreciated donation from
The Kent Archaeological Society




How to find the Chapel


St Edmund's Chapel is in the centre of Dover surrounded as it is today by the busy build up of both the High Street and Biggin Street over the years. It is easy to see how it went virtually undiscovered for all those years prior to it re-discovery in the 1960s. You can see the obvious assumption that there must be some tie with the the Maison Dieu close by.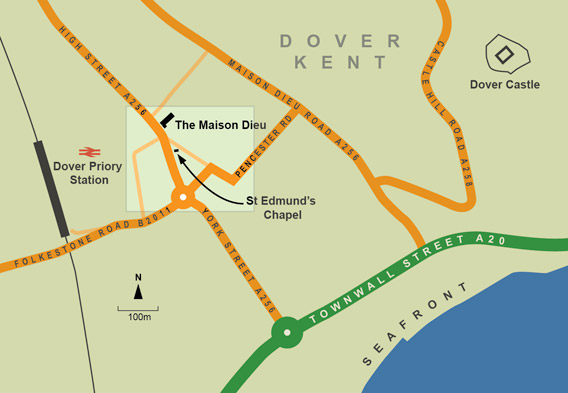 A map showing the network of roads in Dover. Also highlighted is the famous Dover Castle. Note Dover Priory Station and that Pencester Road is well served by a bus terminus.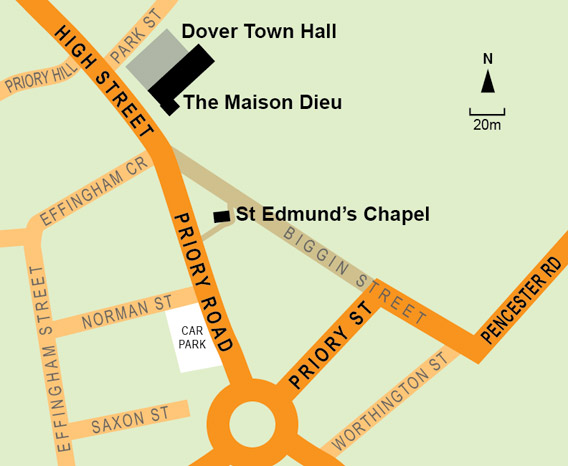 On the opposite side of Priory Road, a little way south of the Chapel, is a public car park. The two 'roads' around the Chapel are pedestrianised. The small lane passing around the Chapel from Priory Road onto Biggin Street is called St Edmund's Walk.
If driving from the A2 or A20 make your way to Townwall Street and proceed until you reach the York Street roundabout. Take the north exit up York Street (A256) to the next roundabout. Go straight over into Priory Road and park in the car parks on the left hand side. The Chapel is on the right side of the road virtually opposite the parking.

From Dover Priory train station, walk towards the town centre and bear left following the footpath. Approx 100 metres from this left hand bend on the right side of the road is the Chapel. Cross at the pedestrian crossing.

If arriving in Dover by bus, walk up Pencester Road towards the pedestrian crossing. Turn right at the crossing then walk straight ahead past Boots the Chemist and on about 100 metres towards the Town Hall – Maison Dieu. In the precinct, look carefully for a small alleyway named St Edmund's Walk on your left. You are now immediately behind the Chapel. Just walk around to the front.
back to top of page >>